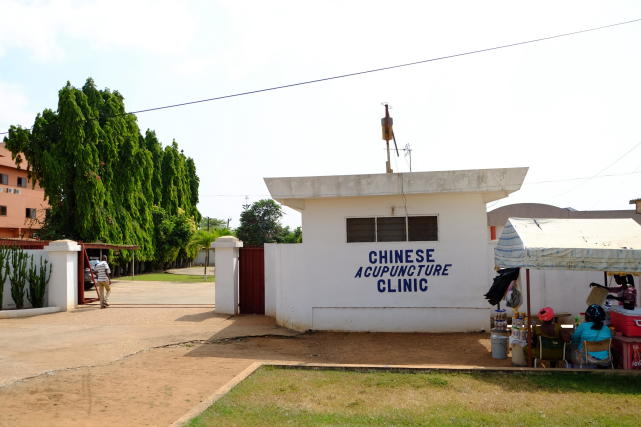 In Ghana, a remote West African country, there's a Chinese acupuncture clinic trusted by local people that has acted not only for acupuncture therapy for the President, but also attracting patients form neighboring countries. Some patients have even been specially flown to Ghana from Europe to visit the Chinese acupuncturist.
Xiao Bo, the founder of the clinic, has been in his 70s and still insists on consultation. He said he first came to Ghana in 1985. "When my sister was to do business in Ghana and Togo in that year, I came here to look around." Did not think of this, but with indissoluble bond.
By chance, Xiao Bo learned from her sister's friend that when Ghanaian President Jerry John Rollins suffered from severe frozen shoulder, the treatment abroad was not cured either. At friend's recommendation, Rawlings agreed to try Xiao Bo to carry on Chinese traditional acupuncture treatment for him.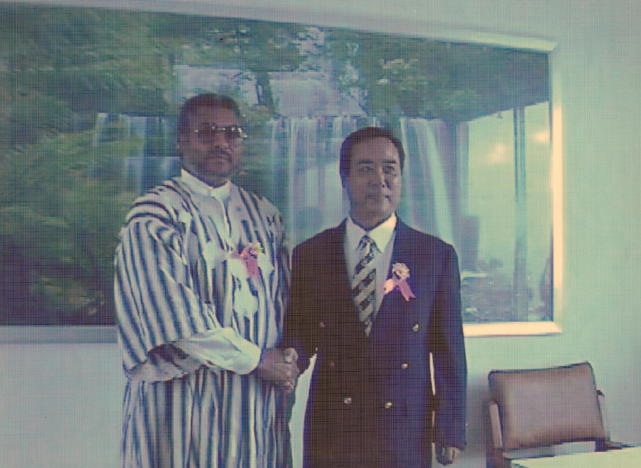 Xiao Bo (right) with Rawlings, former President of Ghana.
"At first, the president was a little skeptical about acupuncture," Xiao Bo recalled. "He was nervous for the first time and got four guards on his side."
However, the president's doubts gradually been reassured by acupuncture curative effect. After a period of treatment, Rawlins's condition improved significantly. Before this, he had difficulty in raising his arm, after treatment, he could normally salute and shake hands with other. Xiao Bo said with emotion: "President Rawlings was very happy, praised the effect of acupuncture amazing, advised me to stay in Ghana to practice medicine."
At the invitation of the president, Xiao Bo stayed in a public hospital in Accra, the capital of Ghana. In 1988, he founded the first private clinic run by foreigners in the area. From then on he opened the clinic while promoting the traditional Chinese medicine clinic to the locals, which is 30 years.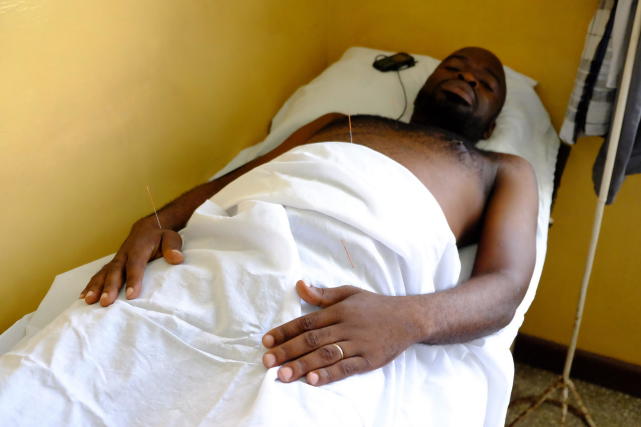 A local patient undergoing acupuncture shot on November 28.
The initial stage of the clinic, Xiao Bo has also experienced a period of exploration. "The locals have concerns about Chinese doctors and do not understand traditional Chinese therapies such as acupuncture and moxibustion. This needs a process of acceptance."
For example, many endemic diseases in West Africa such as malaria, typhoid, cholera and plague are rare in China at the time. Xiao Bo spent a long time studying, it gradually accumulated clinical experience. Since the early 90s of last century, he has introduced domestic artemisinin drugs into the local clinical treatment, which has not only saved more lives but also quietly established the reputation of Chinese clinics.
On November 28, on the streets of Accra, Ghana, a passer-by with things on head.
In addition, Ghanaian people still retain the traditional custom of walking overhead, many people suffer from cervical and lumbar diseases, and acupuncture and massage are just right in the treatment and treatment of such chronic diseases. Chinese clinics have become "old-famous" trusted by locals.
"It has been 30 years since I opened the business and has never advertised or publicity. It is thanks to the patient's word of mouth." Xiaobo said nowadays, clinics often receive the patients come from neighboring countries such as Nigeria, Côte d'Ivoire and Togo , there are even patients specifically flew from Europe to see a doctor.
Xiao Bo's clinic currently has three Chinese doctors, including his son Xiao Kejia and eight Ghanaian nurses.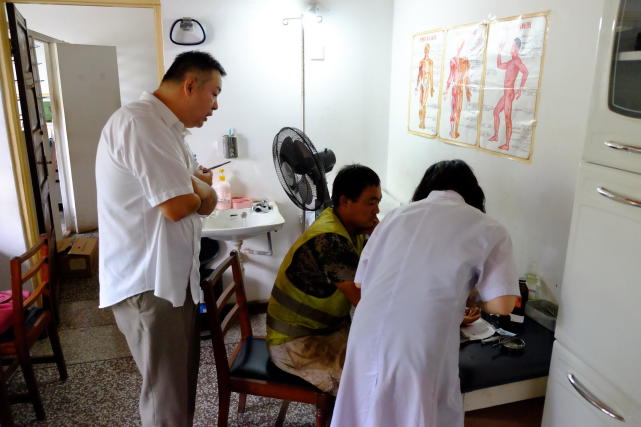 On November 21, Xiao Kejia (first left) and another doctor, Cao Ke, treated the wounds for the injured fingers.
Amelia, 35, a nurse-in-law who has been working here for over 10 years, is also her first job since graduating from nursing home. In addition to regular nursing, she is also responsible for the translation of English and Ghanaian local dialects.
"We selected our graduates directly from our nursing home and managed them in our own way," says Xiao Kejia. "Let these carefully selected nurses meet our standards in every detail."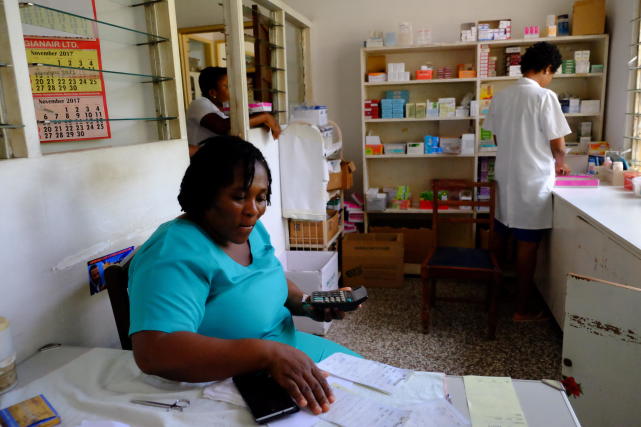 Ghanaian local nurse filmed at the clinic on November 28.
Xiao Bo stressed that the purpose of the clinic is to save people first. "Sometimes the patient is in danger, but he has no money to pay, letting them or their family make an IOU and wait for the money to be paid back.
"Every year I save a bunch of IOUs, and many later did not hear the news." Xiao Bo smiled when he said these words. "But I feel very proud. It is incumbent upon me to do something good for the local people."
As a Chinese acupuncture products supplier, also as Chinese, we are proud of Xiao bo and his team, and we are always devote to researching and designing for our honest customers from all over the word.